What is the Future of Art Galleries?
Full Access

Onsite Student Access

Onsite Experience

Virtual Full Access

Virtual Basic Access
All presentations are available in the virtual platform on-demand.

---
Speaker(s):
Hideaki Ogawa, Ars Electronica Futurelab, Austria
June Kim, UNSW Art & Design, Australia
Maša Jazbec, DDTlab at Network of Art Research and Culture Centres, Slovenia
Akira Wakita, Keio University SFC, Japan

Talk Description: What is the role of art in society? The pandemic has had a major impact on cultural institutions and art initiatives around the world, and the development of advanced technologies such as AI and NFT has raised a variety of questions about the nature of artworks themselves. What kind of diversity will art galleries have as a platform for encountering art, and what kind of "place" will they become in the future? In this special session, we will discuss the future of art galleries.
Speaker(s) Bio: Hideaki Ogawa (JP/AT) is a creative catalyst, artist, educator, curator and researcher in the field of art, technology, and society. He is currently a Co Director of Ars Electronica Futurelab as well as a Director of Ars Electronica Japan. His special research focus is Art Thinking and he has conducted many innovation projects in Art and Science, Art and Industries and Art and Society. In addition to the artistic innovation research, he has realized international projects for festivals, export programs like Ars Electronica in the Knowledge Capital, School of the Future with Tokyo Midtown and the Ars Electronica Center in Linz. He is also a representative and artistic director of the media artist group h.o. He searches for witty new ideas depending on current social contexts, and creates artistic expressions with the speed of technological progress.

June Kim is an artist, researcher, curator and an academic teaching at the University of New South Wales (UNSW) Art & Design. Previously June had over ten years of experience in the Animation and VFX industry as a lead compositor and generalist in New Zealand. Her current research and practice interest lie in the function of immersion and simulation in human culture and existing applications to new and emerging forms of interaction. She co-chaired the SIGGRAPH Asia 2019 Art gallery program and will lead the SIGGRAPH Asia 2023 conference.

Maša Jazbec (SI), is an intermedia artist, curator and academic researcher. She holds a Ph.D. in human informatics, attained at the University of Tsukuba (Empowerment Informatics program) and MA in interactive art, achieved at Interface Culture program at the University of Arts and Design Linz, Austria. She is engaged and committed to the vision and execution of the Trbovlje New Media Setting project in Slovenia, and organizes projects and events integrating science, art, technology and society at the international new media culture Speculum Artium festival. She was a visiting researcher at Ishiguro Laboratory at ATR, Kyoto in Japan. Her projects, exhibited as artworks, have always shown her understanding of new media as a research artistic practice, stemming from artistic and scientific thought, linked to the current situation in the contemporary society. Her latest research interests are mostly focused in social robotics and android science. She presented her research at conferences such as Computer Human Interaction 2016, Human Robot Interaction 2017, ISEA 2017 and System Man and Cybernetics IEEE 2017. In 2018 she was in the Prix Ars Jury for 'Interactive Art +' category at Ars Electronica. She is currently a guest professor at Interface Culture lab at University for Arts and Design Linz, Austria.

Akira Wakita is an artist working at the intersection of science and art, using numerical simulations to create video, installations, and live performances. His works have been exhibited at Ars Electronica Center, Mutek, Redbull Music Festival, WRO Art Center, Kiyoharu Art Colony, National Museum of Emerging Science and Innovation, Media Ambition Tokyo, 2121_DESIGN SIGHT, and others. He is a professor at the Faculty of Environment and Information Studies, Keio University.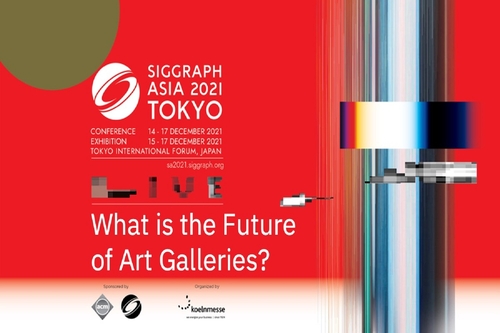 ---