Ron's Gone Wrong; Bringing B*Bots to Life
Full Access

Onsite Student Access

Onsite Experience

Virtual Full Access

Virtual Basic Access
All presentations are available in the virtual platform on-demand.

---
Speaker(s):
Philippe Denis, DNEG Animation, United States of America
Paul Baaske, DNEG Animation, United States of America
Toba Seibzener, DNEG Animation, United States of America
Kapil Sharma, DNEG Animation, United States of America
Eliot Hobdell, DNEG Animation, United States of America
Crosby Clyse, DNEG Animation, United States of America

Talk Description: The DNEG Animation and MGFX team behind Ron's Gone Wrong, the recently released animated comedy adventure about the budding friendship between a middle-school boy and his faulty robot, explain how they crafted everyone's new best friend. Introducing the B*Bot!
Speaker(s) Bio: With over 25 years of experience in the film and animation industry, Philippe Denis has worked on many well-known animated features and movies, ranging from Antz to Minority Report. Now, as a VFX Supervisor for DNEG Animation, he has most recently delivered upcoming feature animation Ron's Gone Wrong, the company's first animated feature film. Before this, Philippe's VFX Supervisor role at DreamWorks honed his leadership skills, with titles such as Trolls, Mr. Peabody and Sherman, Megamind, Trollz, and Shrek the Halls to name a few projects from his extensive filmography. Philippe also served as a CG Supervisor on Madagascar, Over the Hedge and Shrek The Third, bringing him full circle from his first role as a Lighter on the Academy Award-winning animated feature Shrek in 2001. While at DreamWorks, Philippe also tested new software and trained recruits in lighting techniques. These roles, along with the others, provide a full scope of technical expertise for Philippe to draw from in his supervision roles. Philippe's understanding of the technical challenges and tight deliveries in animation make him not only a highly skilled resource, but also a great leader. Philippe openly shares his expertise and guidance, and is known to be a crucial member of DNEG Animation.

Paul Baaske has held 10 years of leadership positions in Feature Animation films and episodic work. Most recently he was the Global Workflow Architect for DNEG Animation where he built multi-site, multi-project workflows and technology, while the division grew to five hundred plus people. Before that Paul was the CG Supervisor on Ron's Gone Wrong, DNEG's first feature animation film and a CG Supervisor at Mikros Animation, leading Sherlock Gnomes, from the new studio in London, done in collaboration with the Paris studio. He was also a CG Supervisor at Prime Focus Animation, where helped establish studios in London and Mumbai. His extensive experience in designing and implementing pipelines and workflows has helped him deliver ambitious, high-end projects for multiple studios. He has a track record of driving innovation and growth. He believes his position is unique in that it sits between the creative, technical and production teams, allowing him to align goals and get things done.

Toba Siebzener is a Lead Character Technical Director at DNEG Animation, based in London. Starting off as one of the first to be a part of the feature rigging team, she spearheaded some of the main characters in the department. She works closely with animation, surfacing and lighting to develop the required pipeline and tools. Excited to always take on new challenges she now leads her team on many new projects in the ever-growing feature animation division at DNEG. Ron's Gone Wrong will be her first work completed at DNEG and she is very proud to be able to see all the great work realized on the big screen.

Kapil Sharma is an Animation Director for DNEG Animation. He's been instrumental in building the animation team and helping develop the rigging and feature animation pipeline. He joined the DNEG team in 2017 as an Animation Lead, then became the Animation Supervisor on Ron's Gone Wrong. He was also responsible for leading the development of the show's main character, Barney. Prior to DNEG Animation he worked with DreamWorks Animation's India unit on projects like Trolls, Penguins of Madagascar, Madagascar 3, the Shrek and Madagascar shorts and the Kung Fu Panda ride.

Eliot Hobdell is a Motion Graphics Supervisor with over 25 years' experience in the motion design industry. His creative work spans the fields of film, feature animation, commercials, VR, projection mapping, theatre and live entertainment. A graduate of the London College of Communication, he has pursued his passion for moving image design throughout his career with work for Jim Henson's Creature Shop, The Foreign Office, MPC and DNEG.

Crosby Clyse is Head of Production for DNEG Animation globally, overseeing the current slate of projects across crew in the UK, North America, and India. Joining DNEG in 2016, Crosby jumped at the opportunity to help craft their animation team and pipeline. He served as DNEG Animation's producer on Ron's Gone Wrong, the studio's first feature animated film. Prior to DNEG Animation, Crosby worked at Pixar Animation Studios on the feature films Onward, Finding Dory, The Good Dinosaur, and Brave. A proud Appalachian, Crosby was drawn into animation from New York's theatre scene, where he worked for Disney Theatrical Group and various scenic design studios and not-for-profit theatre companies.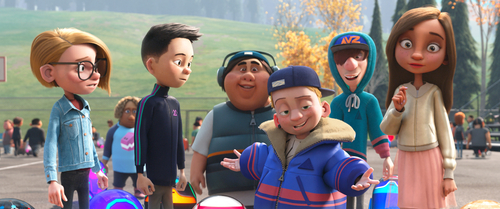 ---