Full Access

Onsite Student Access

Onsite Experience

Virtual Full Access

Virtual Basic Access
All presentations are available in the virtual platform on-demand.

---
Speaker(s):
Brian Connor, DNEG, United States of America
Tristan Myles, DNEG, Canada
Robyn Luckham, DNEG, Canada

Talk Description: 'Dune: Part One' is the remarkable science fiction epic and the introduction of Denis Villeneuve's vision of Frank Herbert's Dune universe to viewers. In this session, Tristan Myles (VFX Supervisor), Brian Connor (VFX Supervisor) and Robyn Luckham (Global Head of Animation) will talk through the pivotal role that DNEG played in bringing Villeneuve's immersive vision to life with Production VFX Supervisor Paul Lambert. Sharing enthralling behind-the-scenes details of the project, the panel will dive into the meticulously detailed VFX work, the sweeping environments and impressive creatures that played a pivotal role in the creation of an iconic film.
Speaker(s) Bio: Brian Connor is a VFX Supervisor at DNEG with over 20 years of experience of high-end feature film visual effects. He most recently supervised DNEG's work on 'Dune' in Montréal, for director Denis Villeneuve, and is currently the Overall Production supervisor for DNEG's work on 'Devotion' for director J. D. Dillard. Previously, Brian supervised George Clooney's World War II drama 'Catch 22' for Hulu. His work on the series earned him an Emmy Nomination at the 2019 Emmy Awards for 'Outstanding Special Visual Effects in a Supporting Role'. His work on 'Poseidon' earned him a VES nomination for 'Outstanding Compositing in a Motion Picture'. Brian also worked as DNEG's VFX Supervisor on 'Godzilla: King of the Monsters' (2019), and prior to that was DFX Supervisor on Warner Bros. monster movie 'The Meg' (2018). Brian has extensive experience of bringing the physical reality of in-camera elements together with state-of-the-art digital material to create a seamless, photo-real result, which can be seen in his work on films such as 'Wonder Woman', 'Iron Man', 'Pirates of the Caribbean' and 'War of the Worlds' among many others.. Brian is a team player with a solid knowledge of the on-set environment gained through his work on films such as 'Chaos Walking', where he served as on-set Supervisor, and 'Godzilla: King of the Monsters', as well as 'Star Trek Beyond' for which he was part of DNEG's on-set supervision team. He is versatile and resourceful, and always looks for the most appropriate and practical methodologies at every stage of the visual effects process.

Tristan Myles is an Academy Award-winning VFX Supervisor currently helming DNEG's work on Netflix's upcoming fantasy adventure film, 'Slumberland'. Prior to this, he served as VFX Supervisor on director Denis Villeneuve's highly-anticipated 'Dune', working closely with multiple Academy Award-winning Production VFX Supervisor Paul Lambert both on location in Jordan and Budapest and back in the Vancouver office to deliver an ambitious reimagining of Frank Herbert's classic sci-fi novel. In 2019, Tristan received several awards for his work on Damien Chazelle's biographical drama 'First Man', including the 'Best Visual Effects' Academy Award and the VES Award for 'Outstanding Supporting Visual Effects in a Photoreal Feature'. Merging his technical and creative abilities, Tristan led on innovative production practises that redefined the meaning of shooting 'in-camera'. He was also nominated for a 2019 BAFTA Award for his achievement on 'First Man'. 
 With over seventeen years in the visual effects industry, Tristan has amassed an impressive filmography that includes several Oscar winning films. Among them, Denis Villeneuve's 'Blade Runner 2049' and Christopher Nolan's 'Interstellar'. His work on both of these projects earned Tristan a VES award nomination.

Robyn Luckham is an Animation Director and Global Head of Animation at DNEG with over 22 years of experience in VFX. As an Animation Director, he is based out of Vancouver, where he recently completed the animation work on Denis Villeneuve's upcoming masterpiece, 'Dune'. The 2.5 year project included a large number of Creature animation challenges, on-set collaboration and intricate motion capture co-direction with Denis to create huge cinematic, digital battles. Previous Supervision work includes Tim Burton's adaptation of the fantastical world of 'Miss Peregrine's Home for Peculiar Children'. Robyn has also supervised the Academy Award-nominated 'Snow White and the Huntsman', Ron Howard's critically acclaimed Formula 1 biopic 'Rush', and Howard's 'In The Heart of the Sea'. For that film, Robyn supervised DNEG's animation and collaborated with scientists to get accurate whale characteristics work for all underwater whale creatures, including the movie's iconic pale protagonist. As Global Head of Animation, Robyn oversees all global technology and workflow operations for Animation at DNEG, across four countries and six studios for VFX and TV. In addition, he is leading a talented global team which has recently completed work on the likes of 'Blade Runner 2049', 'Pacific Rim 2', 'Avengers: Infinity War ', 'Deadpool 2', 'Ant-Man and the Wasp' and 'Togo'.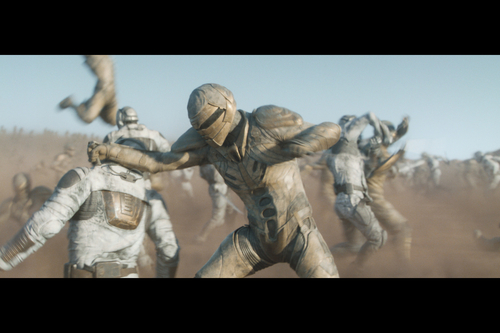 ---