Titmouse's 5 Second Day Snack Chats, 2021 Edition
Full Access

Onsite Student Access

Onsite Experience

Virtual Full Access

Virtual Basic Access
All presentations are available in the virtual platform on-demand.

---
Speaker(s):
Anastasiia Platoshyna, For Snake's Sake, Canada
Biancca Ozawa, Microorganisms Performing Phagocytosis, Canada
Brian Muelhaupt, Moon and Dino, United States of America
Sean Covernton, Park Friends, United States of America
Otto Tang, I Love Baby, United States of America
Gary Ye, Nightlight, Canada

Talk Description: Feast your eyes on a selection of six byte-sized cartoons from Emmy Award-winning animation studio Titmouse's infamous 5 Second Day 2021 Edition screening. If you don't know about Titmouse's 5 Second Day, it's a longstanding tradition - a day when the studio closes so staff can make whatever project is swimming around in their heads. 5 Second Day came about as a way to make cartoons that we can all enjoy, but the tradition has evolved since it first began in 2008. Since then, the complexity, length, and creative collaboration across departments has skyrocketed. Some artists will work on ambitious ideas for months. In the end, the artists retain control of the short. To date more than 1,000 5 Second Day cartoons have been created.
Speaker(s) Bio: Anastasiia Platoshyna is a Ukrainian visual development artist based in Vancouver. Currently she is a lead designer at Titmouse. Her previous experience as a background artist includes work on Arlo the Alligator Boy, Star Wars: Galaxy of Adventures, Cleopatra in Space, Animaniacs, and Star Trek: Lower Decks. One of her passions is coming up with silly stories and bringing them to life!

Biancca Ozawa is an animation director at Titmouse. Originally from Brazil, she moved to Vancouver to attend Capilano College. She has been with Titmouse since 2013, animating for Captain Underpants, Arlo the Alligator Boy (the movie), Q-Force and other cartoons.

Brian Muelhaupt started at Titmouse's NY studio in 2012, animating on Superjail! As a supervising director at Titmouse NY, he is responsible for overseeing projects throughout their creative life from storyboards through post-production. He has worked as an animation director, storyboard supervisor and animator on a wide variety of shows including Harriet The Spy, Star Wars: Galaxy Of Adventures and Hanazuki: Full Of Treasures, Turbo FAST, TMNT: Halfshell Heroes, and Home.

Sean Covernton is an animation director at Titmouse. Originally from Winnipeg, Manitoba, he moved to Vancouver, British Columbia to study animation at Capilano College and make cartoons. He has worked on many incredible shows such as Little Big Awesome and Animaniacs. When not making cartoons, Sean also produces unusual live theatre shows and slings D20s like nobody's business.

Otto Tang is a director and art director at Titmouse, based in LA. Originally a background painter for Metalocalypse, he has grown in his artistic responsibilities at Titmouse and directed title sequences for the feature documentaries Sunset Strip and Jaco. He was the art director on Randy Cunningham 9th Grade Ninja (Disney XD), and Big Mouth (Netflix). He had recently produced the music video, Don't Cry for Canadian singer songwriter MorMor. His 5 Second Day short, By the Stream was an official selection at Annecy International Animated Film Festival.

Gary Ye is a series director at Titmouse Vancouver and thinks internet horror is what is best in life. He has worked in a variety of roles including background design, compositing, and storyboarding. His short films include the Vimeo Staff Pick, COYANUSCOCKSEE, and A GOD's PURPOSE, which have screened at festivals around the world, including at SXSW, Annecy. He has worked as a Supervising Director on Devil May Care, and as a storyboard artist on Star Trek: Lower Decks and the opening sequence of Last Kids on Earth.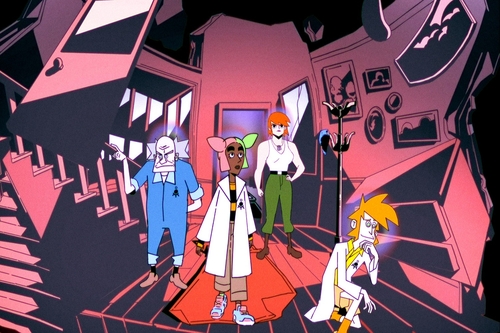 ---